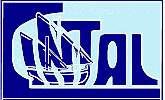 WiMUST Engineering Trial: AUV self noise and MF / HF compatibility

A. Mantouka, amantouka@ualg.pt
S.M.Jesus, sjesus@ualg.pt
F. Zabel, fredz@wireless.com.pt
SiPLAB, University of Algarve, Campus de Gambelas,
PT-8005-139 Faro, Portugal



Comments: download file (cintal_rep).
Ref.: SiPLAB Report 02/16, SiPLAB, University of Algarve,2016.


Abstract
Within the framework of the WiMUST project, an important requirement is the parallel AUV operation and communication with the seismic signal acquisition. The objective of this report is to investigate whether the AUV self noise and the Mid Frequency (MF) and High Frequency (HF) communication signals used by the modems, which are installed on the AUVs, would interfere with the acquisition of seismic signals. This report attempts to address this issue and discusses measurement results from the Engineering trial that took place in Lisbon in Mai 2016.



ACKNOWLEDGMENT: this work was supported by project WiMUST under EU H2020, contract 645141.