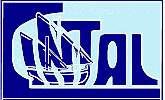 EPPO preliminary tank experiment: data report

P. Felisberto, pfelis@ualg.pt
J. Silva, (email n/a)
A. Silva, asilva@ualg.pt
SiPLAB, University of Algarve, Campus de Gambelas,
PT-8005-139 Faro, Portugal



Comments: download file (cintal_rep).
Ref.: SiPLAB Report 03/16, SiPLAB, University of Algarve,2016.


Abstract
This report describes the acoustic and other complementary data gathered during an experiment carried from July 26th to July 28th in the water tank of the IPMA-EPPO (Estação Piloto de Piscicultura de Olhão ), Olhão, in the framework of the SEAOX project (PTDC/EEIPRO/2598/2014). The tank bottom is covered by seagrasses, particularly Zostera marina. The objective of the experiment was to gather a preliminary data set for the development of the acquisition systems, data processing methods and models. To this end several acoustics transmission at close range (source-receiver distance approx. 1 m) and backscatter measurements were carried during 2 daily cycles. This report presents the experimental setup, the acoustic and complementary environmental data acquired during the experiment, and discusses preliminary results.



ACKNOWLEDGMENT: this work was supported by project SEAOX FCT contract PTDC/EEIPRO/2598/2014.