Experiment for Detection and Localization of Simulated Whale Sounds - EDELWEIS'14 sea trial
August 4 - 11, 2014, Hellenic Trench (Zakynthos), Greece.
---
---

1. Objectives: the EDELWEIS'14 sea trial is multi institution cooperation that fulfils a number of objectives under the EDELWEIS'13 project namely to conduct a controlled detection and localization experiment emulating sperm whale monitoring, originally to be carried out near Sagres, off the south-west coast of Portugal. This objective was extended to include actual sperm whales and therefore moved to a region off the west coast of Greece, known as the Hellenic Trench, where there is a relatively large sperm whale community. The overall objectives are to:

acquire acoustic data transmitted from a pinger deployed at a depth compatible with sperm whale diving, in various configurations and setups so as to allow pinger localization and validation;
acquire concurrent environmental data such as temperature and/or sound speed profiles to allow sufficient environmental description for propagation model setup;
if possible, obtain actual sperm whale vocalization acoustic recordings in configurations allowing for animal localization and tracking.
2. Participating vessel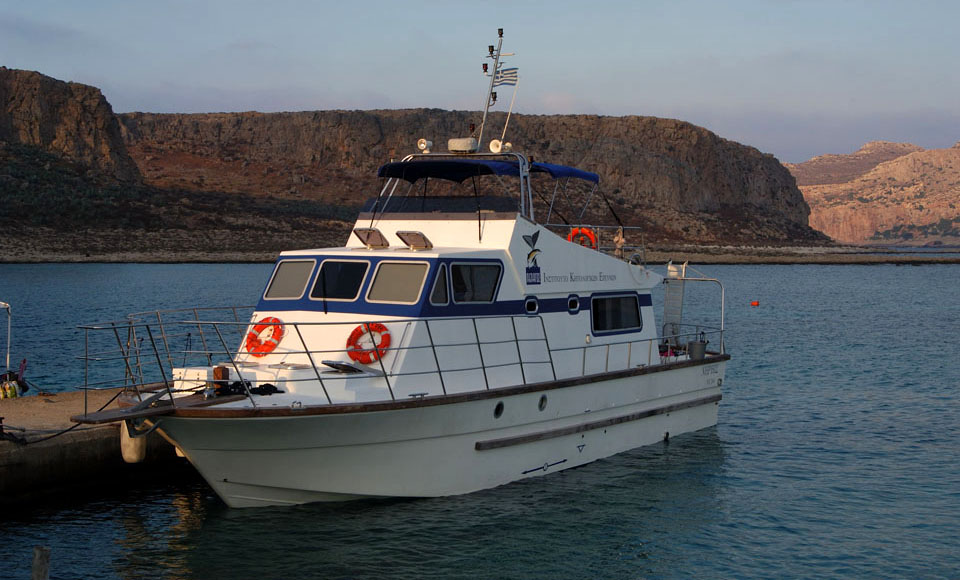 R/V Nereis (Pelagos Cetacean Research Institute)

3. Means to be employed a board

2 AOB's with 8 hydrophones each and 20 temperature sensors

hand held CTD

On-line acoustic pinger

500m pressure gauge
3. Test area: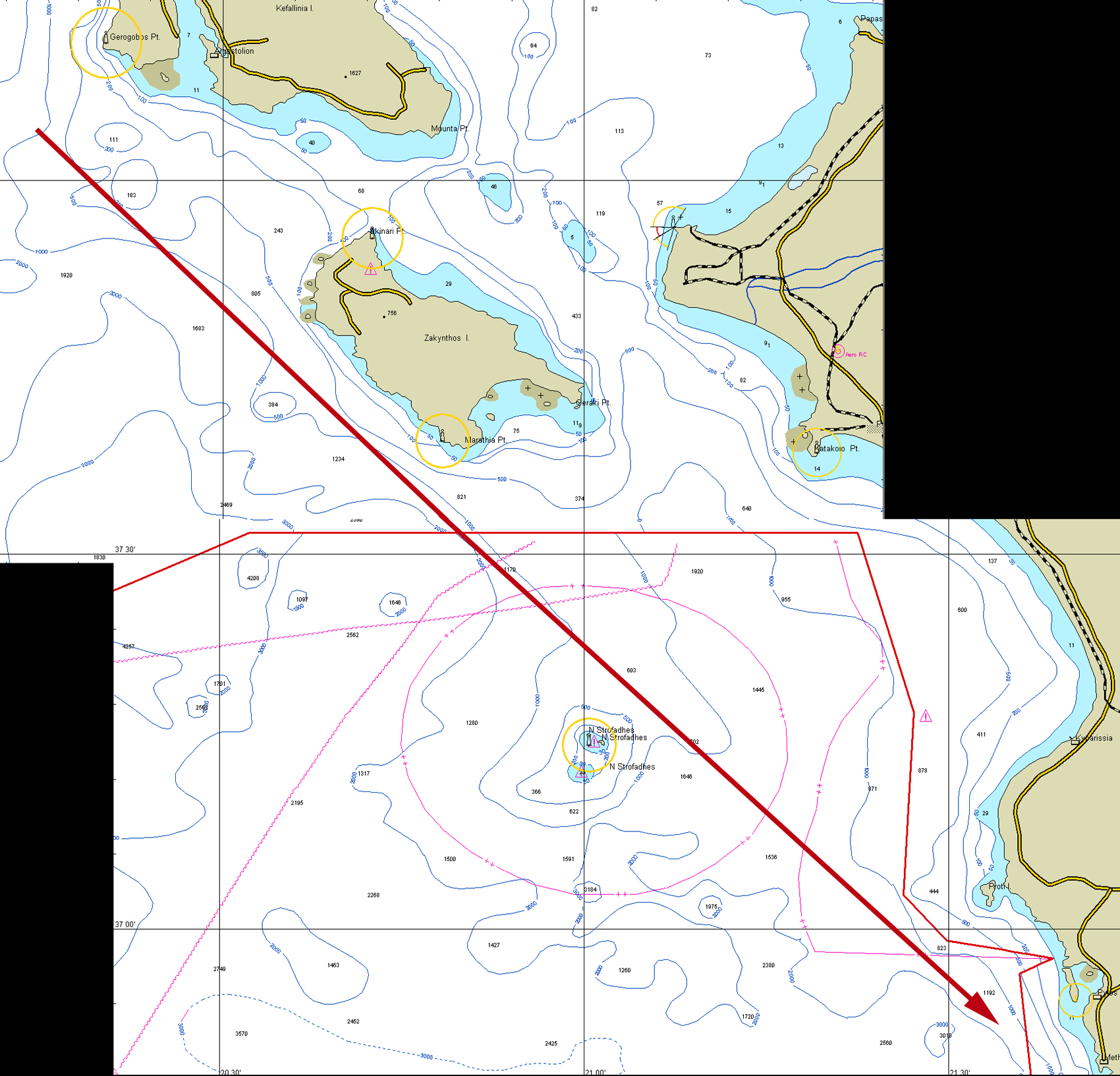 ---
4. Operations day by day (all times are in local Greek time = GMT + 3)

SUNDAY August 3 - arrival in Zakynthos port of CINTAL team and meet PCRI team on board R/V Nereis.

MONDAY August 4 - equipment installation in Zakynthos port and trip to Keri.

| | | |
| --- | --- | --- |
| | | 10:00 arrival of equipment on Zakynthos port. Equipment loading and installation; 14:00 - arrival of FORTH team and winch loading and installation. 19:00 - leaving Zakynthos port towards Keri, arrival at 21:00. Mooring in Keri. |
| Keri port as seen from R/V Nereis | Turtle shaped island in Keri. | |
TUESDAY August 5 - forecast for area west of Zakynthos: Beaufort 4 in the morning increasing to 5 and 6 in the afternoon. Decision was made to perform an equipment test in the protected area south of Zakynthos I.

| | | |
| --- | --- | --- |
| | | 08:00 technician on board for engine repair; 11:15 left Keri direction to the southeast sheltered area; 12:30 arrival on area; 13:15 made CTD using FORTH winch (see left); 13:40 deploy AOB21 and then AOB22 at about 200m distance; deployed pinger at 100 m depth and transmitted signals to AOBs while on station and while running south, to the deepest area. AOBs were successfully recovered at the end of the day in low wind and waves conditions. |
| FORTH winch and AOB21 ready for deployment | Sound velocity profile obtained with RBR Concerto CTD. | |
WEDNESDAY August 6 - same forecast for area west of Zakynthos: Beaufort 4 in the morning increasing to 5 and 6 in the afternoon. It appears that weather in the protected area is stable, so decision was made to perform the pinger run in the deepest area in between Zakynthos and the main land.

| | | |
| --- | --- | --- |
| | | 09:45 left Keri to the southeast; 10:15 deploy towed whale array; 11:30 arrival on site for 900m water depth; 11:40 make CTD with winch; 12:00 deploy AOB22 with SR1 on hyd #1; 12:20 deploy AOB21 with SR1 on hyd#3; 12:20 deploy pinger with 500 m cable scope. Pinger remains almost horizontal as R/V Nereis drifts towards south. 13:15 weather worsening, 1 m height waves; 14:00 recover AOB21 and 14:30 recover AOB22. |
| deploying AOB22 | 5s 11kHz pings as received on AOB hydrophone 5@54m depth | |
THURSDAY August 7 - bad weather forecast for all Ionian area. Stay in port of Keri. Repaired Nereis to port electrical connection. Sylvia Frey left.

FRIDAY August 8 - the forecast is good for the west Zakynthos area. Decided to chase for whale hearing.

| | | |
| --- | --- | --- |
| | | 07:20 leave Keri to west Zakynthos (Hellenic Trench); 07:45 deployed towed whale array; going first towards south and out and then north along the Trench, up to the northern border of Zakynthos I. Several hearings of dolphins but no whale detection; back in port at 15:00. |
| PCRI 2-hydrophone whale array | GPS track made by R/V Nereis on August 8 | |
SATURDAY August 9 - better forecast, decided for short whale track and then pinger experiment on deep area southeast of Zakynthos I.

| | | |
| --- | --- | --- |
| | | 07:20 left Keri to west whale track; 07:45 deploy towed whale array; going west, then south and then east towards the deeper area southeast of Zakynthos I, without any whale detection. 11:30 arrival on site for 700m water depth; 12h make CTD with strong drift, so pay out 200m of cable; 12:20 deployed AOB21 without wifi and then AOB22, approximately 300 m to the east; 13:00 deployed pinger with 600m of cable while drifting south; 13:40 payed out another 400m of pinger cable; starting half circle pattern as foreseen in the test plan.14:30 reached approximately 4 km from AOB22 and still receiving wifi loud and clear. 15:30 shortened pattern due to AOB's drift and sea state deteriorating, recovering pinger. 16:00 recovering AOB21 and AOB22 by beaufort 4 (1-1.5m waves). Heading to swim area. |
| recovering AOB22 | temperature - depth track of pinger | |
SUNDAY August 10 - very good weather forecast, heading south for whale detection area.

| | | |
| --- | --- | --- |
| | | 09:30 left Keri heading south; 10:30 deploy towed whale array; stop every 15 min for listening; 11:00 spotted dolphins; 11:30 turned north; close visual contact with large cargos; 12:15 spotting dolphins; 13:30 heading southeast again; 14:30 reaching turn to Zakynthos and heading to swim area at 15:00; heading to Keri at 18:00. |
| Nereis track | spotted dolphins | |
MONDAY August 11 - the best day we had in a week ! Last chance for whale chasing. 09:30 left Keri heading west and then south and then east with whale array out and stopping engines every 15 min; no signs of whales. 16:00 heading to Zakynthos town. 18:00 arrival in Zakynthos and end of the cruise.

---
Who said sea trials were not funny ?
| | |
| --- | --- |
| | |
| having a swim in the caves | ship wreck (NW Zakynthos I.) |
---
Test plan: version 7 (9 June 2014)here

---
Last update: August 20, 2014
---