You are not Logged in!
Log in to check your messages.
SiPLAB products: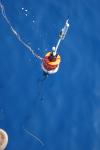 Acoustic Oceanographic Buoy (AOB)
The AOB is an integrated system composed of a piece of hardware to be deployed at sea (from a surface ship or aircraft) and a software utility that interfaces with the user at a remote location on real time. The AO-Buoy capabilities are as follows:
easy to handle system tending to the size, weight and autonomy of a standard sonobuoy
several depth modulable wideband acoustic and non-acoustic (thermistors, depth sensors, ...) channels
on the buoy GPS for time and location reference
on the buoy pre-processing for data reduction and analysis
fast remote wireless communications for data online monitoring and processing
online tracking of AO-Buoy position, status and data being acquired
real time data processing with the following scopes: water column temperature profiling via tomographic inversion, geo-acoustic bottom inversion, sound source detection, localization and tracking and underwater communications in the band up to 16 kHz.
Applications sought are: rapid environmental assessment (REA), bottom profiling and exploration, rapid submarine detection, localization and identification and communications with submerged targets (benthic labs, AUV's, subs, etc...).
Recent publications:
Featured products: