You are not Logged in!
Log in to check your messages.
JONAS - Joint Framework for Ocean Noise in the Atlantic Seas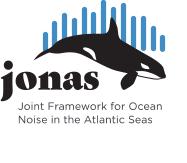 JONAS addresses threats to biodiversity from underwater noise pollution on sensitive species in the NE Atlantic by streamlining ocean noise monitoring and risk management on a transnational basis. Atlantic area states need a consistent way to resolve this common transboundary challenge. Jonas will develop and pilot a noise-monitoring platform, harmonize technical approaches to MSFD and MSP requirements, and promote the adoption of quieter operational practices among users of the NE Atlantic marine space. Start date: 25-Mar-2019, Duration: 36 months, Funding: 2.8 Million euro
Partnership: UCC (IR-Coordinator), MS (UK), CEFAS (UK), QO (FR), SHOM (FR), UPC (SP), PLOCAN (SP), UALG (PT) and IH( PT). People involved from UALG: S.M. Jesus, O. Rodriguez, P. Felisberto, P. Santos and A. Santos. [project web page]
Objectives:
Increasing human pressure on the ocean and impact on biodiversity are a major concern to policy makers, scientists and citizens. Blue growth increases this pressure: e.g. continuous and impulsive noise from shipping, offshore survey and construction, which can adversely affect many marine species, threatening the (good) environmental status of the Ocean. JONAS aims to address the risks of acoustic pressures on biodiversity focusing on sensitive receptor species in the North Atlantic by streamlining ocean noise monitoring and risk prediction. Cost effective approaches to monitoring and modelling noise across the Atlantic Arc (OSPAR regions) will be developed, appropriate to the scale of anthropogenic pressure and biodiversity mobility. JONAS draws on the outcomes from BIAS Life+ project, adapting and generalizing methods and standards from the Baltic to reflect the scale and complex oceanography of the NE Atlantic region. Jonas will also cooperate closely with JOMOPANS project currently addressing underwater noise in the adjoining North Sea area. JONAS will address real-time noise management at local scale in particularly sensitive areas and support policy partners to develop Regional-scale approaches that benefit vulnerable biodiversity and support MSFD implementation. The value of JONAS will be maximized by creating an innovative common operational platform, and providing maritime decision support for real-time adaptive management of sensitive marine areas.
last update: 1-Nov-2019
Partnership
Resources